Every week I will share our meal plan for the coming week.  Making your own food is a great way to save money, explore new cuisine, and eat healthy (if you choose to make healthy foods).  A good meal helps bring people together and as you improve your cooking skills you will impress more and more people!   I generally use recipes as a starting off point and then experiment with different proportions or ingredients.  Leftovers make great lunches for the 9-5 crowd who might otherwise have to decide between a sandwich or a pricey cafeteria.
This Week For Dinner…
Baked Tortellini (Ravioli) with Spinach
This is another recipe that comes from Shae's side.  I don't know the exact recipe but I do know some things.
It involves cheese tortellini
It includes both Alfredo and tomato sauces
Spinach is mixed into the casserole
Italian sausage and pepperoni slices seem to find their way into the pan
Cheese is a must
It is positively delicious
Brats w/ Potato or Macaroni Salad
Whether you are tailgating or just want a quick meal, brats really hit the spot.
Slow Cooker Chicken Tortilla Soup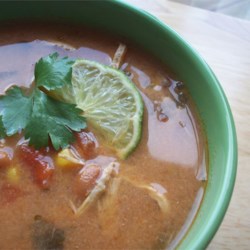 It has been unseasonably cold this past week.  That has me craving two things.  A hot, hearty soup, and a slow cooker recipe to help warm up the house.  We still have a package of authentic corn tortillas to use for this recipe.  Yum yum!
Caramel Chicken Stir Fry

Are you looking for a new stir fry recipe?  Then look no further.  This recipe by Chef John is delectable.  There is even a video on AllRecipes that shows you how to make it.
Snack Food…
Trail Mix & Spooky Candy
We've made up another big batch of trail mix.  Cashew halves and pieces were on sale so they made it into the mix.  Also this week is Halloween.  We'll be handing out treats to the little gremlins and goblins that pay us a visit.  Of course some of those treats might not make it out of the house!